Welcome to 2023, #1LISD! Students' accomplishments didn't slow down over winter break, with the Vandegrift football team playing in the state championships, the Henry honor band performing in Chicago and the Vista Ridge band marching in the Rose Parade. January is School Board Recognition Month, and it's a great time to get to know more about the seven Trustees who serve our district. Here's a rundown of what's inside this issue of The Compass.
Learning in Action: Four Points MS
Follow along with #1LISD Board member Francesca Romans as she experiences Mr. Lutz' Leadership class and Learning in Action at Four Points MS. Go, Falcons!
A Look Around #1LISD
#1LISD students, staff and Trustees marched in honor of Martin Luther King Jr. at the Leander MLK Day Parade and Celebration Jan. 16.
Check out the district's Photos site to view more smiling faces in #1LISD.
MLK and Inclusion – Disabling Passing
Foundational to his work, Dr. Martin Luther King Jr. essentially fought for the inclusion of those who had been excluded from experiencing their full Americanness by law and custom. In this article, Chief of DEI DeWayne Street and LSSP Ken Breslow, Ph.D., explore the journey to full inclusion by disabling passing.
🗓 Upcoming Events
Sunday, Jan. 15–21: State Recognition: Generation Texas Week
Monday, Jan. 23–27: State Recognition: Texas Holocaust Remembrance Week
Thursday, Jan. 26: 🏫 School Board Recognition Month Reception
5:45 p.m. at the LEO Conference Center
Thursday, Jan. 26: 🏫 LISD Board Meeting
6:15 p.m. at the LEO Conference Center | Board Agendas
Thursday, Feb. 2: State Recognition: Texas Military Heroes Day
Tuesday, Feb. 7: 📍 Community Forum: Middle School & High School Rezoning
6:30 p.m. at Cedar Park HS | Zoning Information
Wednesday, Feb. 8: 📍 Community Forum: Middle School & High School Rezoning
6:30 p.m. at Leander HS | Zoning Information
Thursday, Feb. 9: 🏫 LISD Board Meeting
6:15 p.m. at the LEO Conference Center | Board Agendas
Tuesday, Feb. 13: 📍 Community Forum: Middle School & High School Rezoning
6:30 p.m. at Henry MS | Zoning Information
Over the Break
Vandegrift HS Football Finishes as State Runner-Up
The Vandegrift Vipers fought hard in the UIL 6A Division II championship game Saturday, Dec. 17, losing to DeSoto High School 42-17 at AT&T Stadium in Arlington. The game capped the most successful season in the school's history after reaching the championship game for the first time.
Henry MS Honors Band Travels to Chicago as Featured Performing Ensemble
The Henry Middle School Honors Band performed at the Midwest International Band and Orchestra Clinic in front of a packed audience Wednesday, Dec. 21, at The McCormick Place in Chicago. With its stature as a prestigious international music conference, receiving an invite to perform comes with quite the honor. The ensemble, under the direction of Robert Herrings, spent the semester working toward this feature concert in front of a large crowd of music educators from all over the country.
Vista Ridge HS Band Shines in Rose Parade
The Vista Ridge High School Band represented Leander ISD during the 2023 Rose Parade Monday, Jan. 2, in Pasadena, Calif., as the only marching band from Texas. The Rangers also had the unique honor of being the only band invited to perform when all other participants were required to go through an application process.
46 LISD Band and Choir Students Selected as TMEA All-State Musicians
On Jan. 7, a large number of Leander ISD student-musicians competed in the Texas Music Educators Association (TMEA) Area Auditions. At the auditions, 46 LISD Band and Choir Students were selected as TMEA All-State Musicians, the highest individual accomplishment that a high school student can attain.
Long-Range Plan & Upcoming Attendance Zoning for MS & HS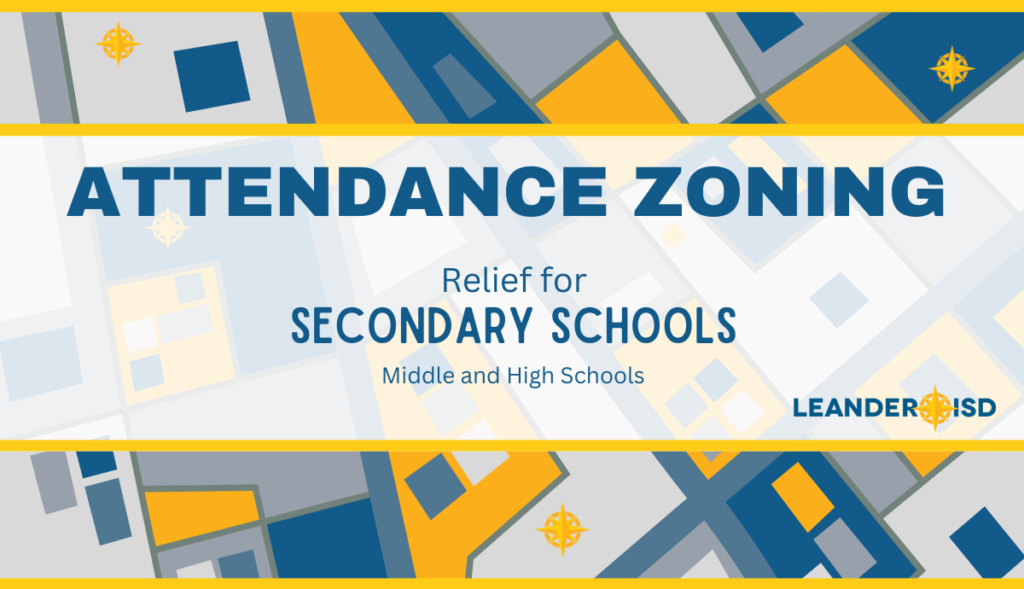 The Long-Range Planning Committee (LRPC) wrapped up its work in developing Leander ISD's first 10-year Long-Range Plan, focused on student learning and anchored in our Core Beliefs. The first action item is to provide relief to the population growth at the secondary campuses in the central and north end of the district while optimizing our facilities to remain stable and balanced for a longer time period through an attendance rezoning. The first set of scenarios will be published and released by Monday, Jan. 23.
Empowering Parents Resource Focuses on Health & Wellness
In Leander ISD, the partnership between the district and parents serves as the foundation in benefiting students and keeping them safe. It takes all of us.
In response to community requests for educational awareness on topics of safety and security, along with health and wellness, we launched Empowering Parents.
This newly created page creates a centralized location for information shared during the Fall 2022 summit and builds on those topics to better serve our community.
Feedback Opportunity: Instructional Materials Selection
This spring, Leander ISD will consider the adoption of new instructional resources for six courses:
American Sign Language I-IV
Chinese I-IV
AP US History
AP Calculus AB and BC
African-American Studies
Mexican-American Studies
Members of our LISD community are encouraged to provide feedback on these resources from Jan. 17–Feb. 17 through in-person viewing at Central Office and Cedar Park High School or by viewing the materials virtually on the district website. We will host three Q&A Zoom meetings Feb. 7 with district curriculum experts that allow community members to explore the options, ask questions and provide feedback. For questions about the instructional materials selection process, please reach out to us through Let's Talk.
BrightBytes Student Technology Surveys
Each year, Leander ISD partners with BrightBytes, an educational research and analytics organization, to learn more about our schools' technology use through district-wide surveys. The goal of these surveys is to gather metrics on technology access, technology skills and the district's technology environment, in order to understand the connection between technology use and student achievement.
Students and staff will have the opportunity to take the survey from Jan. 23–Feb. 10 during the school day.
Application Window for 2023-24 Early College High School Open Now – March 3
Do you know a current eighth-grade student who would benefit from obtaining their high school diploma while also earning an associate degree TUITION FREE? Leander ISD has partnered with Austin Community College to create LISD's Early College High School (ECHS).
LISD ECHS will soon be selecting the second cohort through a blind lottery process for incoming 2023–24 ninth-graders. All interested students must complete and submit an application for admission prior to the deadline. The application submission window is open through March 3. Applications are available on our ECHS website and through middle school counselors.
Appreciating Our Board
This month, we are celebrating the passion and purpose of #1LISD's Board of Trustees. The penultimate volunteer for our district, the Team of 7 keeps students at the heart of its decisions, and we are grateful for their service.
There will be a reception from 5:45–6:15 p.m. Thursday, Jan. 26, at the LEO Center to celebrate these public servants.
Upcoming Appreciation Weeks:
National School Counseling Week: Feb. 6–10
LISD Volunteer Appreciation Week: Feb. 13–17
Board Meeting Updates
During its Jan. 12 meeting, the Leander ISD Board of Trustees:
Approved a lump-sum retention payment for LISD special education staff
Discussed the Academic Calendar development process for 2023–24 & 2024–25
Approved Budget Assumptions for the 2023–24 fiscal year
Discussed the Instructional Material Selection Process
Received an update from the Citizens' Facility Advisory Committee (CFAC)
You can find all of the details in Board Briefs.
Our next regular Board meeting will be held at 6:15 p.m. Jan. 26 at the LEO Center. The meetings are also available through live-stream on our Board of Trustees webpage. Meeting agenda packets are available online within 72 hours of the meeting.
Make a Difference, Become a Mentor
Are you looking for a way to volunteer and make a real difference in a child's life? We have students at our campuses that need you! You can choose to volunteer at the campus(es) that works best for you.
If you are interested in becoming a HEROES Mentor, please complete a volunteer application and then submit your mentorship interest form.
Visit the Mentoring page for more information on how to get involved.
Communication
Our schools and teachers use Remind to send text messages and emails to our parents. Make sure you log into Remind to set up your notification preferences, see archived messages, and send messages directly to your teachers and school staff. Download the mobile app (Google Play, Apple) for the best user experience.
Check out our News website and follow us on social: Facebook, Twitter, Instagram
LEEF 2023 Gala
The LEEF team is excited to announce that our LEEF Gala 2023 has SOLD OUT!
LEEF's annual gala is our largest fundraising event of the year, and we are so excited to raise these funds to support Leander ISD teachers and students!
Want to attend but forgot to purchase your ticket? Please email [email protected] to be added to our waitlist. Want to participate but not attend? Register today to view and bid on auction items or to donate.
Texas Stars Star Wars Night Benefitting LEEF
Why did Anakin Skywalker cross the road? To get to the Dark Side! Join us for a Star Wars-themed night with the Texas Stars on Jan. 27. Purchase your tickets at www.TexasStars.com/LEEF and a portion of the proceeds come back to LEEF. Be sure to check out the jersey auction that night to benefit LEEF.
Panda Express Giveback Benefitting LEEF
Do you love Panda Express as much as we do?
LEEF is partnering with Panda Express on Friday, Feb. 3, from 10 a.m.–9:30 p.m. for a day of fundraising for Leander ISD students and teachers! During this one-day event, 50% of all purchases using the LEEF flyer will come back to Leander ISD classrooms.
*You must bring or show the flyer virtually at checkout: https://bit.ly/3ZFymLU
**You can also order online and enter code 347416 in the fundraiser code box.
---
Our Voice (Staff)
#1LISD Special Education Staff to Receive Retention Incentive
The Leander ISD Board of Trustees approved a retention incentive payment for special education teachers, itinerant-related staff, and special education instructional assistants during its Thursday, Jan. 12 meeting in order to address critical shortages and remain competitive in the market for retention of high-quality staff. These lump-sum payments, outlined below, come in addition to the December-approved incentive payments distributed to all district staff.
Benefits Reminder
Check out the latest edition of Benefits Buzz for reminders and tips.
A few reminders:
Benefit changes made during open enrollment took effect Jan. 1, 2023
New participants in the BCBS Medical, HCH Medical, BCBS HSA, HCH HSA, Guardian Dental, VSP Vision, and NBS FSA should have received ID cards in December at your home address, so keep an eye out for those.
BenefitPlace Login and additional benefits information can be found on the district's Benefits page.
New Absence Management System – Red Rover – Launched
In an effort to improve efficiencies to our ability to manage absences, and substitutes, Leander ISD moved to a new absence management System – Red Rover – Tuesday, Jan. 17. District staff should have received invitations to create a Red Rover account.
Key Points
You will be required to set up a Red Rover account to use the new system. The account-creation invitations have been sent
As of Jan. 16, you may begin entering absences for Jan. 17 and onward.
All absences entered into AESOP / Frontline before Jan. 13 were automatically transferred over to Red Rover.
If you have any questions or need support, please contact the Substitute Office: [email protected]
---
Boletín THE COMPASS
¡Bienvenido al 2023, #1LISD! Los logros de los estudiantes no disminuyeron durante las vacaciones de invierno, con el equipo de fútbol Vandegrift jugando en los campeonatos estatales, la banda de honor de Henry tocando en Chicago y la banda de Vista Ridge marchando en el Desfile de las Rosas. Enero es el Mes de Reconocimiento de la Junta Directiva de LISD y es un buen momento para conocer más sobre los siete Trustees que sirven a nuestro distrito. Aquí hay un resumen de lo que hay dentro de esta edición de The Compass.
Aprendizaje en acción: Four Points MS
Siga a Francesca Romans, miembro de la junta directiva de #1LISD, mientras visita Four Points MS para vivir la experiencia del aprendizaje en acción. ¡Vamos, Halcones!
Una mirada alrededor de #1LISD
#1LISD los estudiantes, el personal y los miembros de la junta directiva marcharon en honor a Martin Luther King Jr. en el Desfile y Celebración del Día de Leander MLK el 16 de enero.
Visite el sitio de fotos del distrito para ver más caras sonrientes en #1LISD.
MLK e Inclusión
Fundamental para su trabajo, el Dr. Martin Luther King Jr. esencialmente luchó por la inclusión de aquellos que habían sido excluidos de experimentar su americanidad plena por la ley y la costumbre. En este artículo, el jefe de DEI DeWayne Street y el LSSP Ken Breslow, Ph.D., exploran el viaje hacia la inclusión total al deshabilitar el paso.
🗓 Próximos Eventos
domingo, 15 al 21 de enero: Reconocimiento estatal: Semana de la Generación de Texas
lunes, 23 al 27 de enero: Reconocimiento estatal: Semana de Texas de la Conmemoración del Holocausto
jueves, 26 de enero: 🏫 Recepción del Mes de Reconocimiento de la Junta Directiva
5:45 p.m. en el centro de conferencias de LEO
jueves, 26 de enero: 🏫 Reunión de la Junta Directiva de LISD
6:15 p.m. en el centro de conferencias de LEO | Agenda de la Junta
jueves, 2 de febrero: Reconocimiento estatal: Día de los Héroes Militares de Texas
martes, 7 de febrero: 📍 Foro comunitario: Rezonificación de escuelas secundarias y preparatorias
6:30 p.m. en la preparatoria Cedar Park | Información de Zonificación
miércoles, 8 de febrero: 📍 Foro comunitario: Rezonificación de escuelas secundarias y preparatorias
6:30 p.m. en la preparatoria de Leander | Información de Zonificación
jueves, 9 de febrero: 🏫 Reunión de la Junta Directiva de LISD
6:15 p.m. en el centro de conferencias de LEO | Agenda de la Junta
martes, 13 de febrero: 📍 Foro comunitario: Rezonificación de escuelas secundarias y preparatorias
6:30 p.m. en la secundaria Henry | Información de Zonificación
Durante el Descanso
El equipo de fútbol americano de la preparatoria Vandegrift finalizó como subcampeón estatal
Los Vipers de Vandegrift lucharon duro en el juego de campeonato de la División II de la UIL 6A el sábado 17 de diciembre, perdiendo ante la preparatoria de DeSoto 42-17 en el estadio de AT&T en Arlington. El juego coronó la temporada más exitosa en la historia de la escuela después de llegar al juego de campeonato por primera vez.
La Banda de Honores de la Escuela Secundaria Henry viaja a Chicago como conjunto de interpretación destacado
La Banda de Honores de la Escuela Secundaria Henry se presentó en la Clínica Internacional de Bandas y Orquestas del Medio Oeste frente a una audiencia repleta el miércoles 21 de diciembre en The McCormick Place en Chicago. Con su estatura como una prestigiosa conferencia internacional de música, recibir una invitación para participar es un gran honor. El conjunto, bajo la dirección de Robert Herrings, pasó el semestre trabajando en este concierto frente a una gran multitud de educadores musicales de todo el país.
La Banda de la Escuela Preparatoria Vista Ridge brilla en el Desfile de Rosas
La banda de la preparatoria Vista Ridge representó a Leander ISD durante el Desfile de las Rosas del 2023 el lunes 2 de enero en Pasadena, California, como la única banda de música de Texas. Los Rangers también tuvieron el honor único de ser la única banda invitada a participar cuando todos los demás participantes debían pasar por un proceso de solicitud.
46 Estudiantes de Banda y Coro de LISD fueron seleccionados como músicos de todo el estado por TMEA
El 7 de enero, un gran número de estudiantes-músicos de Leander ISD compitieron en las Audiciones de Área de la Asociación de Educadores de Música de Texas (TMEA). En las audiciones, 46 estudiantes de banda y coro de LISD fueron seleccionados como músicos de todo el estado de TMEA, el logro individual más alto que un estudiante de secundaria puede alcanzar.
Planificación a Largo Plazo y Próxima Zonificación de Asistencia de Secundaria y Preparatoria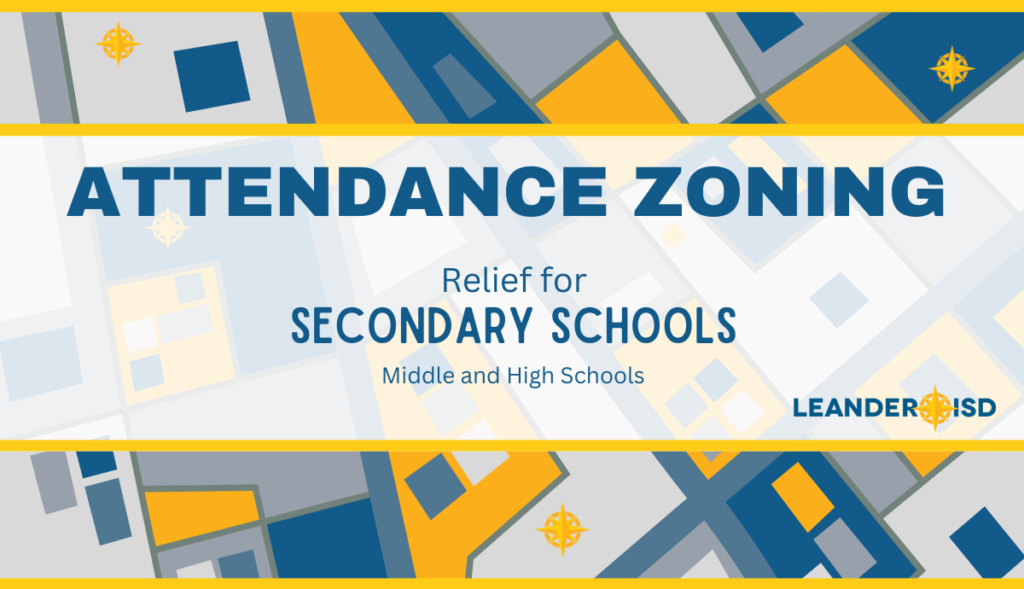 El Comité de Planificación a Largo Plazo (LRPC) concluyó su trabajo en el desarrollo del primer Plan a Largo Plazo de 10 años de Leander ISD, centrado en el aprendizaje de los estudiantes y anclado en nuestros Core Beliefs. El primer elemento de acción es brindar alivio al crecimiento de la población en las escuelas secundarias en el extremo central y norte del distrito mientras optimizamos nuestras instalaciones para permanecer estables y equilibradas por un período de tiempo más largo a través de una rezonificación de asistencia. El primer conjunto de situaciones se publicará y lanzará el lunes 23 de enero.
El Recurso de Empoderamiento de Padres de Familia se Centra en la Salud y el Bienestar
En Leander ISD, la asociación entre el distrito y los padres sirve como base para beneficiar a los estudiantes y mantenerlos seguros. Se necesita a todos nosotros.
En respuesta a las solicitudes de la comunidad de concientización educativa sobre temas de seguridad y protección, junto con la salud y el bienestar, lanzamos Empowering Parents.
Esta página recién creada crea una ubicación centralizada para la información compartida durante la cumbre de otoño de 2022 y se basa en esos temas para servir mejor a nuestra comunidad.
Oportunidad de Retroalimentación: Selección de Materiales de Instrucción
Esta primavera, Leander ISD considerará la adopción de nuevos recursos educativos para seis cursos:
Lenguaje de signos americano I-IV
Cursos del Idioma Chino I-IV
Historia de EE. UU. AP
Cálculo AP AB y BC
Estudios afroamericanos
Estudios mexicano-americano
Se alienta a los miembros de nuestra comunidad de LISD a proporcionar comentarios sobre estos recursos del 17 de enero al 17 de febrero en persona en la oficina central de LISD y la Escuela Preparatoria Cedar Park o al ver los materiales virtualmente en el sitio web del distrito. Organizaremos tres reuniones de preguntas y respuestas por zoom el 7 de febrero con expertos en currículo del distrito que permitirán a los miembros de la comunidad explorar las opciones, hacer preguntas y brindar comentarios. Si tiene preguntas sobre el proceso de selección de materiales de instrucción, comuníquese con nosotros a través de Hablemos.
BrightBytes Encuestas de Tecnología para Estudiantes
Cada año, Leander ISD se asocia con BrightBytes, una organización de análisis e investigación educativa, para obtener más información sobre el uso de la tecnología en nuestras escuelas a través de encuestas en todo el distrito. El objetivo de estas encuestas es recopilar métricas sobre el acceso a la tecnología, las habilidades tecnológicas y el entorno tecnológico del distrito, para comprender la conexión entre el uso de la tecnología y el rendimiento estudiantil.
Los estudiantes y el personal tendrán la oportunidad de realizar la encuesta del 23 de enero al 10 de febrero durante el día escolar.
Plazo de Solicitud para el 2023-2024 de la Escuela PreUniversitaria Abierto ahora hasta el 3 de marzo
¿Conoce a un estudiante actual de octavo grado que se beneficiaría de obtener su diploma de preparatoria y al mismo tiempo obtener un título de asociado y MATRÍCULA GRATUITA? Leander ISD se ha asociado con Austin Community College para crear esta escuela preuniversitaria Early College High School (ECHS) de LISD.
LISD ECHS pronto seleccionará la segunda cohorte a través de un proceso de lotería a ciegas para los estudiantes de noveno grado que ingresarán en 2023-24. Todos los estudiantes interesados ​​deben completar y enviar una solicitud de admisión antes de la fecha límite. La ventana de presentación de solicitudes está abierta hasta el 3 de marzo. Las solicitudes están disponibles en nuestro sitio web de ECHS y a través de los consejeros de las escuelas secundarias.
Apreciando a Nuestra Junta Directiva de LISD
Este mes, estamos celebrando la pasión y el propósito de la Junta Directiva de #1LISD. El penúltimo voluntario de nuestro distrito, el equipo de 7 mantiene a los estudiantes en el centro de sus decisiones, y estamos agradecidos por su servicio.
Habrá una recepción de 5:45 a 6:15 p.m., el jueves 26 de enero en el centro de conferencias de LEO para celebrar a estos servidores públicos.
Próximas Semanas de Agradecimiento:
Semana Nacional de Consejería Escolar: 6 al 10 de febrero
Semana de Agradecimiento a los Voluntarios de LISD: 13 al 17 de febrero
Actualizaciones de la Reunión de la Junta Directiva de LISD
Durante la reunión del 12 de enero, la Junta Directiva de Leander ISD:
Aprobó un pago de retención para el personal de educación especial de LISD
Hablaron del proceso de desarrollo del Calendario Académico para 2023–24 y 2024–25
Presupuesto aprobado basado en suposición para el año fiscal 2023–24
Hablaron del proceso de selección de materiales de instrucción
Recibió una actualización del Comité Asesoría de Instalaciones para Ciudadanos (CFAC)
Puede encontrar todos los detalles en Board Briefs.
Nuestra próxima reunión regular de la Junta Directiva se llevará a cabo a las 6:15 p.m. 26 de enero en el centro de conferencias LEO. Las reuniones también están disponibles a través de transmisión en vivo en nuestra página web de la Junta Directiva. La agenda de la reunión está disponible en línea dentro de las 72 horas posteriores a la reunión.
Hacer una Diferencia, Conviértase en Mentor
¿Está buscando una manera de ser voluntario y marcar una diferencia real en la vida de un niño? ¡Tenemos estudiantes en nuestras escuelas que los necesitan! Puede elegir ser voluntario en las escuelas que mejor se adapten a sus necesidades.
Si está interesado en convertirse en un Mentor HÉROE, por favor de completar una aplicación de voluntario y luego entregar un formulario de interés de mentoría.
Visite la página de Mentoría para obtener más información sobre cómo participar.
Comunicación
Nuestras escuelas y maestros usan la aplicación de Remind para enviar mensajes de texto y correos electrónicos a nuestros padres. Asegúrese de ingresar a Remind para configurar sus preferencias de notificación, ver mensajes archivados y enviar mensajes directamente a sus maestros y al personal de la escuela. Descargue la aplicación móvil (Google Play, Apple) para obtener la mejor experiencia de usuario.
Visite nuestro sitio web de noticias y síganos en las redes sociales: Facebook, Twitter, Instagram
LEEF 2023 Gala
¡El equipo de LEEF se complace en anunciar que nuestra Gala de LEEF del 2023 se ha AGOTADO! ¡La gala anual de LEEF es nuestro evento de recaudación de fondos más grande del año, y estamos muy emocionados de recaudar estos fondos para apoyar a los maestros y estudiantes de Leander ISD!
¿Quieres asistir pero olvidaste comprar tu boleto de entrada? Envía un correo electrónico a [email protected] para agregarlo a nuestra lista de espera. ¿Quiere participar pero no asistir? Regístrese hoy para ver los artículos de la subasta o para donar.
Noche de Texas Stars y Star Wars en Beneficio de LEEF
¿Por qué Anakin Skywalker cruzó la calle? ¡Para llegar al Lado Oscuro! Únase a nosotros para una noche temática Star Wars con Texas Stars el 27 de enero. Compre sus boletos en www.TexasStars.com/LEEF y una parte de las ganancias volverá a LEEF. Asegúrese de ver la subasta de camisetas esa noche a beneficio de LEEF.
Panda Express Giveback en Beneficio de LEEF
¿Te gusta Panda Express tanto como a nosotros?
LEEF se asocia con Panda Express el viernes 3 de febrero de 10 a. m. a 9:30 p. m. para un día de recaudación de fondos para estudiantes y maestros de Leander ISD! Durante este evento de un día, el 50 % de todas las compras realizadas con el volante LEEF volverán a las aulas de Leander ISD.
*Debe traer o mostrar el volante virtualmente al momento de pagar: https://bit.ly/3ZFymLU
**También puede ordenar en línea e ingresar el código 347416 en el cuadro de código de recaudación de fondos.
---
Nuestra Voz (Staff)
#1LISD El Personal de Educación Especial Recibirá un Incentivo de Retención
La Junta Directiva de Leander ISD aprobó un pago de incentivo de retención para maestros de educación especial, personal relacionado con itinerantes y asistentes de instrucción de educación especial durante su reunión del jueves 12 de enero para abordar la escasez crítica y seguir siendo competitivos en el mercado de retención de personal de calidad. Este pago de suma global, que se describe a continuación, se suma a los pagos de incentivos aprobados en diciembre distribuidos a todo el personal del distrito.
Recordatorio de Beneficios
Consulte la última edición de Benefits Buzz para obtener recordatorios y consejos.
Algunos recordatorios:
Los cambios en los beneficios realizados durante la inscripción abierta entraron en vigencia el 1 de enero de 2023
Los nuevos participantes en BCBS Medical, HCH Medical, BCBS HSA, HCH HSA, Guardian Dental, VSP Vision y NBS FSA deberían haber recibido tarjetas de identificación en diciembre a su domicilio, así que manténgase alerta.
El inicio de sesión de BenefitPlace y la información de beneficios adicionales se pueden encontrar en la página de Beneficios del distrito.
Nuevo Sistema de Gestión de Ausencias – Red Rover – Lanzado
En un esfuerzo por mejorar la eficiencia de nuestra capacidad para gestionar las ausencias y los sustitutos, Leander ISD pasó a un nuevo sistema de gestión de ausencias, Red Rover, el martes 17 de enero. El personal del distrito debería haber recibido invitaciones para crear una cuenta Red Rover.
Puntos clave
Se le pedirá que configure una cuenta de Red Rover para usar el nuevo sistema. Las invitaciones de creación de cuenta han sido enviadas.
A partir del 16 de enero, puede comenzar a ingresar las ausencias del 17 de enero en adelante.
Todas las ausencias ingresadas en AESOP/Frontline antes del 13 de enero se transfirieron automáticamente a Red Rover.
Si tiene alguna pregunta o necesita ayuda, comuníquese con la Oficina de Suplentes: [email protected]