The spring celebrations have started! This past week, we celebrated #1LISD retirees and employees with more than 20 years of dedicated service to the district, as well as the 18+ Transition students entering the workforce and bringing great attitudes and admirable work ethics to their new jobs. Here's a rundown of what's inside this issue of The Compass.
Learning in Action
Stiles MS
Trustee Francesca Romans visited Stiles Middle School to experience Learning in Action – and as a bonus, got to stop by Akin Elementary, too. Go, Spartans!
📸 A Look Around #1LISD – LIVE Celebration
Leander ISD's vocational and 18+ students were recognized and celebrated along with their teachers and local community business partners at the annual Leander Independent Vocational Education (LIVE) Celebration held April 26.
This event is an opportunity to celebrate the accomplishments of the young adults served within LISD's Vocational and 18+ Services.
LISD serves a total of 182 students among the High School Vocational and 18+ Transition services. Of those 182 adults, 78 hold paid positions – a reflection to the hard work and dedication of both students and staff.
🗓 Upcoming Events
Saturday, May 6: 🗳 Election Day
Polls open from 7 a.m. to 7 p.m. | More Information
Wednesday, May 10: State Recognition: Public School Paraprofessional Day
Thursday, May 11: 🏫 LISD Board Meeting
6:15 p.m. at the LEO Conference Center | Board Agendas
Tuesday, May 16: 🏫 Special LISD Board Meeting to Canvass Election Results
12 p.m. at the LEO Conference Center | Board Agendas
Wednesday, May 17: 🎓 Graduation: New Hope HS
6 p.m. at Vista Ridge HS | Graduation Info
Friday, May 19: 🎓 Graduation: SELF 18+ Transition Services
7 p.m. at Vista Ridge HS | Graduation Info
Thursday, May 25: 🏫 LISD Board Meeting
6:15 p.m. at the LEO Conference Center | Board Agendas
📸 Breaking Ground for Elementary School 30
Leander ISD celebrated the start of construction on its newest school – Elementary School 30 – with a groundbreaking ceremony Friday, April 28. Elementary School 30 is located in the northwest part of the district, near Devine Lake Park close to the intersection of Bagdad Road and San Gabriel Parkway in Leander.
The school is scheduled to welcome its first class of students in the 2024–25 school year. Funding for Elementary School 30 comes as the result of savings from 2017 and 2007 bonds.
Be a Voter: Last Chance Saturday, May 6
The LISD bond election is this Saturday, May 6. We encourage you to Be A Voter and participate in the election.
The three bond propositions include safety & security projects at every campus, new and renovated schools, and replacement of devices and infrastructure. While the Texas Legislature has required that all school bond elections read "This is a property tax increase" on the ballot, the Leander ISD bond propositions would not impact the district's tax rate.
To learn more about the three bond propositions and their impact on each campus, visit leanderisd.org/bond2023.
Polls are open from 7 a.m. to 7 p.m. this Saturday. You can vote anywhere in your home county.
Thank you for taking the time to Be A Voter!
Help Our Schools By Verifying Your Students for 2023–24 School Year
It's that time of year when families need to complete enrollment verification for returning students – specifically, students who attended a Leander ISD campus in the 2022–23 school year and plan to return for the 2023–24 school year. By verifying your student's enrollment for the upcoming year, this helps our team hire enough high-quality staff.
Looking to 2023–24
Feedback & Applications
Leander ISD believes in ongoing conversations and feedback from all of our community members relating to a variety of topics throughout the year. Several programs and initiatives also have specific windows of time where they accept applications. The Feedback & Applications page was created to provide a single location to see all of these timely topics.
Long-Range Planning Committee Expanded Membership, Application Now Open
Leander ISD is currently accepting applications to serve on the Long-Range Planning Committee (LRPC) only. The application is open to secondary students, parents and community members who are interested in partnering with the district in an advisory role to carry out the mission of the LRPC. You can view the LRPC Charter, mission and additional information on the LRPC webpage.
The deadline to apply is 5 p.m. Friday, May 19. Please note that submitting an application does not guarantee selection for service. However, if you are not selected to serve on the committee, outreach opportunities will continue to be available for community members to provide input, share ideas and participate in shared learning through community workshops and forums.
High Schools Perform and Win Big at 10th Heller Awards Ceremony
Leander ISD Students from Cedar Park High School, Glenn High School, Leander High School, Rouse High School and Vista Ridge High School performed at the 10th annual Heller Awards Ceremony, held Wednesday, April 19, at the Long Center in Austin.
Vista Ridge HS walked away with awards in six categories – Best Female Lead, Best Supporting Male, Best Featured Individual, Best Musical Direction, and Student Achievements in Marketing and Design. Rouse HS was awarded Best Male Lead and Leander HS was awarded Best Featured Ensemble.
Glenn Indoor Drumline Wins State Championship During First Competition Season
The Glenn Indoor Drumline participated in their first competition season this year, remaining undefeated throughout the 2023 winter season and winning the Texas Color Guard Circuit Scholastic Marching Championship with their production entitled "Captive".
📸 LISD Tennis Athletes Compete at State Championships
Student-athletes from Rouse High School and Vandegrift High School competed in the first bracket of the 2022-2023 Tennis State Championships April 25 at the Northside ISD Tennis Center in Helotes.
Rouse's Shannon Barton and Lucas Alden competed in the 5A Mixed Doubles Quarterfinals match. Vandegrift's Lauren Tin and Claire Logeman competed in the 6A Girls Doubles Quarterfinals match.
CRMS Students to Compete at National History Day Competition
Canyon Ridge Middle School students will compete in two categories at the 2023 National History Day competition. These students' projects were recognized as among the best in their categories, in the state of Texas and nationwide. The National History Day competition will be held June 11–15 at the University of Maryland.
New mLISD Devices to be Phased In; Security Deposit Amounts Reduced for 2023–24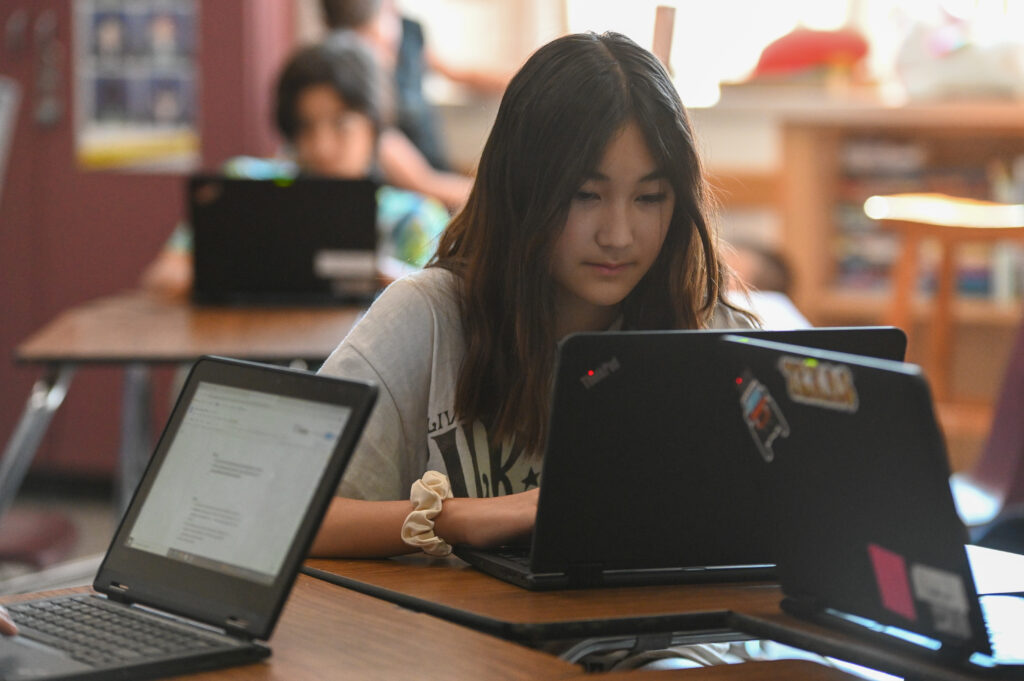 During the 2023–24 school year, Leander ISD will make exciting changes to the mLISD program. The district has chosen the Lenovo 13w Yoga Windows Laptop as the new standard device for high school students, starting with the 2023–24 9th-graders. LISD has also chosen the Lenovo 500e Convertible Chromebook for middle school students, starting with the 2023–24 6th-graders. These new devices will be phased into other grade levels over the next three years
LISD will reduce the amount of the non-refundable security deposit for those who choose to participate. LISD will also be waiving the security deposit for families who qualify for free and reduced meals. These changes will go into effect April 1 of this year for the 2023–24 school year.
Graduation Fast-Approaching for Class of 2023
Leander ISD will salute the graduating Class of 2023 over a series of ceremonies this month. The schedule and school assignments are below. Specific details regarding the ceremonies will be shared on the district's Graduation page closer to the event.
Wednesday, May 17, 2023
New Hope High School: 6 p.m. at Vista Ridge HS
Friday, May 19, 2023
SELF 18+ Transition Services: 7 p.m. at Vista Ridge HS
Friday, May 26, 2023
Rouse High School: 8-10 a.m.
Vista Ridge High School: 12-2 p.m.
Glenn High School: 4–6 p.m.
Cedar Park High School: 8-10 p.m.
Saturday, May 27, 2023
Vandegrift High School: 8-10 a.m.
Leander High School: 12-2 p.m.
Senior Walks 2023 Dates and Times Announced
Senior Walks will take place May 24–25 across Leander ISD's elementary campuses. These walks are an opportunity for graduating LISD seniors to return to their elementary school and celebrate how far they've come, while inspiring and encouraging current elementary students.
Appreciating Our Staff
Appreciation Weeks are an opportunity for the #1LISD community to recognize our #1LISD staff for specific departments within our district. Over the past two weeks, we have celebrated Administrative Professionals Appreciation Week (April 24–28), Librarian Appreciation Week (April 24–28), and Teacher Appreciation Week (May 1–5), highlighting individuals who exemplify the dedication and skills required in their role, and who go above and beyond in their service to the community.
Board Meeting Updates
During its April 27 meeting, the Leander ISD Board of Trustees:
Long-Range Plan Committee update; expanded membership application
Formative Review: Safe & Innovative Learning Environments
Legislative Committee Update
The next regularly scheduled Board Meeting will be Thursday, May 11, at the LEO Center. The meetings are also available through live-stream on our Board of Trustees webpage. Meeting agenda packets are available online within 72 hours of the meeting.
Communication
Our schools and teachers use Remind to send text messages and emails to our parents. Make sure you log into Remind to set up your notification preferences, see archived messages, and send messages directly to your teachers and school staff. Download the mobile app (Google Play, Apple) for the best user experience.
Check out our News website and follow us on social: Facebook, Twitter, Instagram
---
Leander Educational Excellence Foundation (LEEF)
Kendra Scott Gives Back Party Benefiting LEEF
Spring is in the air! Save the date for the Kendra Gives Back Party Benefiting LEEF this Saturday, May 6, from 1–3 p.m. at Kendra Scott at The Domain. A percentage of sales from this event goes toward supporting our amazing #1LISD. This is a great time to get your Mother's Day gifts or add a piece to your collection.
If you can't make it in store, just shop online during the 24-hours of give back using code: GIVEBACK-LEEF
Save the Date: State of the District
Leander Educational Excellence Foundation (LEEF) in partnership with the Cedar Park, Leander and West Austin chambers of commerce are hosting the annual 2023 State of the District luncheon featuring Leander ISD Superintendent Bruce Gearing, Ed.D. The event will be held at 11:30 a.m. Wednesday, June 14, at Vista Ridge High School.
Purchase your tickets today through your chamber!
Interested in sponsoring the event? Sponsorship opportunities can be found on LEEF's website.
---
Our Voice (Staff)
A Salute to Retirees & Years of Service
The Leander ISD Board of Trustees and administration saluted LISD retirees for their more than 1,040 years of collective service in education at a dinner Monday, April 24, at Vista Ridge HS. At the dinner, the district also paid tribute to employees at the 20-, 25-, 30-, 35- and 40-year benchmarks of work in LISD.
District Installs Press-Button Alert System
Thanks to a grant from the state of Texas, Leander ISD has started to install the technology and equipment for a crisis alert system. This technology will provide clear and critical information through the press of a button to all impacted personnel, ensuring everyone is ready to respond to any situation. Students and staff may notice new devices in their classrooms. With testing and training happening now, the system should be ready and available for use starting next school year.
LISD Leadership Program Participants Celebrate Finish Line
Congratulations to the participants of the Leander ISD Prospective Principal Program (P3) and Aspiring Administrator Academy (AAA) for completing these nine-month leadership programs.
The Prospective Principal Program is designed to prepare a select cohort of experienced Leander ISD campus and district administrators to successfully enter the principalship. The Aspiring Administrator Academy is designed for current Leander ISD staff committed to developing their leadership skills in preparation of becoming an Assistant Principal.
Election Reminder
As election season approaches, it is a good time to remind everyone that school district employees are prohibited from using school resources to advocate for or against a particular candidate, party or measure. School resources include our district mail/email systems, as well as campus/classroom/teacher websites and social media accounts. Employees are free to support any political candidate or issue but must ensure that the support is in the employee's individual capacity and on their own personal time.
For additional information, please refer to the Elections Reminders for Staff page.
---
Boletín THE COMPASS
¡Las celebraciones de primavera han comenzado! La semana pasada, celebramos a los jubilados y empleados de #1LISD con más de 20 años de servicio dedicado al distrito, así como a los estudiantes de Transición mayores de 18 años que ingresan a la fuerza laboral y aportan grandes actitudes y admirable ética de trabajo a sus nuevos empleos. He aquí un resumen de lo que contiene este número de The Compass.
Aprendizaje en acción
Stiles MS
Francesca Romans, miembro de la Junta Directiva, visitó la Escuela Secundaria Stiles para experimentar el aprendizaje en acción y de paso visitó la Escuela Primaria Akin. ¡Vamos, Spartans!
📸 Una mirada alrededor de #1LISD – Celebración LIVE
Los estudiantes mayores de 18 años y de educación vocacional de Leander ISD fueron reconocidos y celebrados junto con sus maestros y socios comerciales de la comunidad local en la Celebración anual de Educación Vocacional Independiente de Leander (LIVE por sus siglas en inglés) que se llevó a cabo el 26 de abril.
Este evento es una oportunidad para celebrar los logros de los jóvenes adultos atendidos dentro de los Servicios Vocacionales y 18+ de LISD.
LISD atiende a un total de 182 estudiantes entre los servicios de Educación Vocacional de Preparatoria y de Transición para mayores de 18 años. De esos 182 adultos, 78 ocupan puestos remunerados, lo que refleja el duro trabajo y la dedicación tanto de los estudiantes como del personal.
🗓 Próximos eventos
Sábado, 6 de mayo: 🗳 Día de las Elecciones
Las urnas abren de 7 a.m. a 7 p.m. | Más información
Miércoles, 10 de mayo: SReconocimiento estatal: Día del Paraprofesional en la Escuela Pública
Jueves, 11 de mayo: 🏫 Reunión de la Junta Directiva de LISD
6:15 p.m. en el Centro de Conferencias LEO | Agendas de la Junta Directiva
Martes, 16 de mayo: 🏫 Reunión especial de la Junta de LISD para escrutar los resultados de las elecciones
12 p.m. en el Centro de Conferencias LEO | Agendas de la Junta
Miércoles, 17 de mayo: 🎓 Graduación: New Hope HS
6 p.m. en Vista Ridge HS | Información de Graduación
Viernes, 19 de mayo: 🎓 Graduación: SELF 18+ Servicios de Transición
7 p.m. en Vista Ridge HS | Información de Graduación
Jueves, 25 de mayo: 🏫 Reunión de la Junta Directiva de LISD
6:15 p.m. en el Centro de Conferencias LEO | Agendas de la Junta Directiva
📸 Comienza la construcción de la Escuela Primaria 30
Leander ISD celebró el inicio de la construcción de su nueva escuela – Escuela Primaria 30 – con una ceremonia de colocación de la primera piedra el viernes 28 de abril. La Escuela Primaria 30 está ubicada en la parte noroeste del distrito, cerca de Devine Lake Park cerca de la intersección de Bagdad Road y San Gabriel Parkway en Leander.
Está previsto que la escuela de la bienvenida a su primera clase de estudiantes en el año escolar 2024-25. La financiación de la Escuela Primaria 30 procede de los ahorros de los bonos de 2017 y 2007.
Sea un votante: Última oportunidad el sábado 6 de mayo
La elección de bonos de LISD es este sábado, 6 de mayo. Le animamos a ser un votante y participar en la elección.
Las tres propuestas de bonos incluyen proyectos de seguridad y protección en cada escuela, escuelas nuevas y renovadas, y reemplazo de dispositivos e infraestructura. Mientras que la Legislatura de Texas ha requerido que todas las elecciones de bonos escolares lean "Este es un aumento de impuestos a la propiedad" en la boleta electoral, las propuestas de bonos de Leander ISD no afectarían la tasa de impuestos del distrito.
Para obtener más información sobre las tres propuestas de bonos y su impacto en cada escuela, visite leanderisd.org/bond2023.
Las urnas estarán abiertas de 7 de la mañana a 7 de la tarde este sábado. Puede votar en cualquier lugar de su condado.
Gracias por dedicar tu tiempo a ser un votante.
Ayude a nuestras escuelas al verificar a su estudiante para el año escolar 2023-24
Es ese momento del año cuando las familias necesitan completar la verificación de inscripción para los estudiantes que regresan – específicamente, los estudiantes que asistieron a una escuela de Leander ISD en el año escolar 2022-23 y planean regresar para el año escolar 2023-24. Al verificar la inscripción de su estudiante para el próximo año, esto ayuda a nuestro equipo a contratar suficiente personal de alta calidad.
Pensando a futuro para el 2023-24
Retroalimentación y solicitudes
Leander ISD cree en las conversaciones continuas y en la retroalimentación de todos los miembros de nuestra comunidad en relación con una variedad de temas durante todo el año. Varios programas e iniciativas también tienen plazos específicos de tiempo donde aceptan solicitudes. La página de Comentarios y Solicitudes fue creada para proporcionar un solo lugar para ver todos estos temas oportunos.
Se amplía el número de miembros del Comité de Planificación a Largo Plazo y se abre el plazo de presentación de candidaturas
Leander ISD está aceptando solicitudes para servir en el Comité de Planificación a Largo Plazo (LRPC) solamente. La solicitud está abierta a los estudiantes de secundaria y preparatoria, padres y miembros de la comunidad que estén interesados en asociarse con el distrito en un papel de asesoramiento para llevar a cabo la misión de la LRPC. Puede consultar los estatutos del LRPC, su misión e información adicional en la página web del LRPC.
La fecha límite para presentar la solicitud es el viernes 19 de mayo a las 5:00 p.m. Tenga en cuenta que la presentación de una solicitud no garantiza la selección para el servicio. Sin embargo, si no es seleccionado para formar parte del comité, los miembros de la comunidad seguirán disponiendo de oportunidades de divulgación para hacer aportaciones, compartir ideas y participar en el aprendizaje compartido a través de talleres y foros comunitarios.
Las preparatorias actúan y ganan a lo grande en la 10ª ceremonia de los Premios Heller
Estudiantes de Leander ISD de las preparatorias Cedar Park, Glenn, Leander, Rouse y Vista Ridge High actuaron en la 10ª ceremonia anual de los premios Heller, celebrada el miércoles 19 de abril en el Long Center de Austin.
La Preparatoria Vista Ridge sellevó los premios en seis categorías – mejor protagonista femenina, mejor protagonista masculino, mejor Individuo destacado, mejor dirección musical y logros estudiantiles en Marketing y Diseño. Rouse HS fue galardonado con el mejor protagonista masculino y Leander HS fue galardonado con el mejor conjunto destacado.
Glenn Indoor Drumline gana el Campeonato Estatal en su primera temporada de competición
El Glenn Indoor Drumline participó en su primera temporada de competición este año, permaneciendo invicto durante toda la temporada de invierno 2023 y ganando el Texas Color Guard Circuit Scholastic Marching Championship con su producción titulada "Captive".
📸 Tenistas de LISD compiten en campeonatos estatales
Estudiantes deportistas de las preparatorias Rouse y Vandegrift compitieron en el primer bracket de los Campeonatos Estatales de Tenis 2022-2023 el 25 de abril en el Northside ISD Tennis Center en Helotes.
Shannon Barton y Lucas Alden, de Rouse, compitieron en los cuartos de final de dobles mixtos de la 5A. Lauren Tin y Claire Logeman, de Vandegrift, compitieron en los cuartos de final de dobles femeninos de la 6A.
Los estudiantes de CRMS competirán en el Concurso Nacional del Día de la Historia
Los estudiantes de la Secundaria Canyon Ridge competirán en dos categorías en la competencia del Día Nacional de la Historia 2023. Los proyectos de estos estudiantes fueron reconocidos entre los mejores en sus categorías, en el estado de Texas y a nivel nacional. El concurso del Día Nacional de la Historia se celebrará del 11 al 15 de junio en la Universidad de Maryland.
Los nuevos dispositivos de mLISD se introducirán progresivamente; los importes de los depósitos de seguridad se reducirán para 2023-24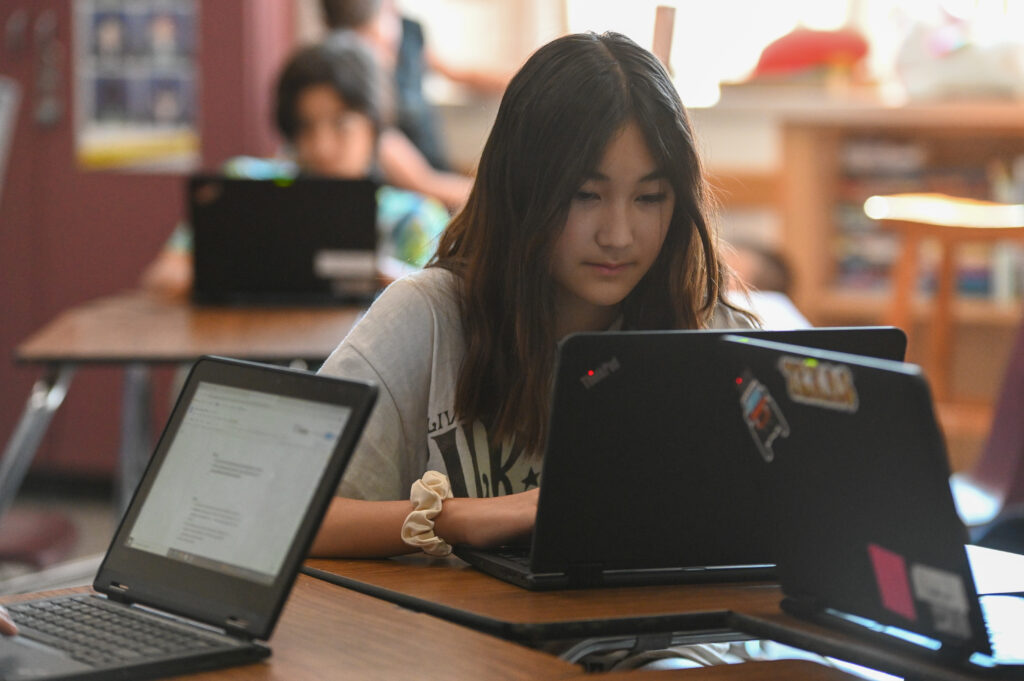 Durante el año escolar 2023-24, Leander ISD hará cambios emocionantes en el programa mLISD. El distrito ha elegido el Lenovo 13w Yoga Windows Laptop como el nuevo dispositivo estándar para los estudiantes de 9 º grado de preparatoria, a partir del año escolar 2023-24. LISD también ha elegido el Lenovo 500e Convertible Chromebook para los estudiantes de 6 º grado secundaria, a partir del año escolar 2023-24. Estos nuevos dispositivos se introducirán gradualmente en otros niveles de grado en los próximos tres años.
LISD reducirá la cantidad del depósito de seguridad no reembolsable para aquellos que decidan participar. LISD también renunciará al depósito de seguridad para las familias que califican para comidas gratuitas y a precio rebajado. Estos cambios entrarán en vigor el 1 de abril de este año para el año escolar 2023-24.
Se acerca la graduación para la Clase 2023
Leander ISD hará homenaje a la Clase de graduación 2023 en una serie de ceremonias este mes. El horario y las asignaciones de las escuelas están abajo. Detalles específicos sobre las ceremonias se compartirán en la página de Graduación del distrito más cerca del evento.
Miércoles, 17 de mayo de 2023
New Hope High School: 6 p.m. en Vista Ridge HS
Viernes, 19 de mayo de 2023
SELF 18+ Servicios de Transición: 7 p.m. en Vista Ridge HS
Viernes, 26 de mayo de 2023
Rouse High School: 8-10 a.m.
Vista Ridge High School: 12-2 p.m.
Glenn High School: 4-6 p.m.
Cedar Park High School: 8-10 p.m.
Sábado, 27 de mayo de 2023
Vandegrift High School: 8-10 a.m.
Leander High School: 12-2 p.m.
Se anuncian las fechas y horarios de las Senior Walks 2023
Las caminatas de los estudiantes de último año que se graduarán se llevarán a cabo el 24 y 25 de mayo en las escuelas primarias de Leander ISD. Estas caminatas son una oportunidad para que los estudiantes de último año que se gradúan de LISD regresen a su escuela primaria y celebren lo lejos que han llegado, mientras inspiran y alientan a los estudiantes de primaria actuales.
Reconocimiento de nuestro personal
Las Semanas de Reconocimiento son una oportunidad para que la comunidad de #1LISD reconozca a nuestro personal de #1LISD para departamentos específicos dentro de nuestro distrito. En las últimas dos semanas, hemos celebrado la Semana de Reconocimiento de Profesionales Administrativos (24-28 de abril), la Semana de Reconocimiento de Bibliotecarios (24-28 de abril), y la Semana de Reconocimiento de Maestros (1-5 de mayo), destacando a las personas que ejemplifican la dedicación y las habilidades requeridas en su papel, y que van más allá en su servicio a la comunidad.
Actualizaciones de las reuniones de la Junta Directiva
Durante su reunión del 27 de abril, la Junta Directiva de Leander ISD:
Actualización del Comité del Plan a Largo Plazo; solicitud de ampliación de miembros
Revisión formativa: Entornos de aprendizaje seguros e innovadores
Novedades de la Comisión Legislativa
La próxima reunión regular de la Junta será el jueves 11 de mayo en el Centro LEO. Las reuniones también podrán seguirse en directo a través de la página web de la Junta Directiva. La agenda del día de las reuniones estará disponible en línea en las 72 horas siguientes a la reunión.
Comunicación
Nuestras escuelas y maestros utilizan Remind para enviar mensajes de texto y correos electrónicos a nuestros padres. Asegúrese de iniciar sesión en Remind para configurar sus preferencias de notificación, ver los mensajes archivados y enviar mensajes directamente a sus maestros y al personal de la escuela. Descargue la aplicación móvil (Google Play, Apple) para obtener la mejor experiencia de usuario.
Visite nuestro sitio web de noticias y síganos en las redes sociales: Facebook, Twitter, Instagram
---
Fundación para la Excelencia Educativa de Leander (LEEF)
Fiesta Kendra Scott retribuye a beneficio de LEEF
¡La primavera está en el aire! Reserve la fecha para el Kendra Gives Back Party a beneficio de LEEF este sábado, 6 de mayo, de 1-3 p.m. en Kendra Scott en The Domain. Un porcentaje de las ventas de este evento se destina a apoyar a nuestro increíble #1LISD. Este es un gran momento para conseguir sus regalos del Día de la Madre o añadir una pieza a su colección.
Si no puede ir a la tienda, comprar en línea durante las 24 horas de retribución utilizando el código: GIVEBACK-LEEF
Reserve la fecha: Estado del Distrito
La Fundación para la Excelencia Educativa de Leander (LEEF) en asociación con las cámaras de comercio de Cedar Park, Leander y West Austin están organizando el almuerzo anual del Estado del Distrito 2023 con el Superintendente de Leander ISD Bruce Gearing, Ed.D. El evento se llevará a cabo a las 11:30 a.m. el miércoles 14 de junio en la Preparatoria Vista Ridge.
Adquiera sus entradas hoy mismo a través de su cámara.
¿Le interesa patrocinar el evento? Puede encontrar oportunidades de patrocinio en el sitio web de LEEF.
---
Nuestra voz (miembros del personal)
Un homenaje a los jubilados y años de servicio
La Junta Directiva de Leander ISD y la administración homenajearon a los jubilados de LISD por sus más de 1,040 años de servicio colectivo en la educación en una cena el lunes 24 de abril en Vista Ridge HS. En la cena, el distrito también rindió homenaje a los empleados con antigüedad de 20, 25, 30, 35 y 40 años de trabajo en LISD.
El distrito instala un sistema de alerta mediante pulsar botones
Gracias a una subvención del estado de Texas, Leander ISD ha comenzado a instalar la tecnología y el equipo para un sistema de alerta de crisis. Esta tecnología proporcionará información clara y crítica a través de la presión de un botón a todo el personal afectado, asegurando que todo el mundo está listo para responder a cualquier situación. Los estudiantes y el personal pueden notar nuevos dispositivos en sus aulas. Con las pruebas y la capacitación curso, el sistema debería estar listo y disponible para su uso a partir del próximo año escolar.
Los participantes en el Programa de Liderazgo del LISD celebran su llegada a la meta
Felicitaciones a los participantes del Programa de Futuros Directores (P3) y la Academia de Aspirantes a Administradores (AAA) de Leander ISD por terminar estos programas de liderazgo de nueve meses.
El Programa de Futuros Directores está diseñado para preparar a un grupo selecto de administradores experimentados del plantel escolar y del distrito de Leander ISD para entrar con éxito en el puesto de director/a. La Academia de Aspirantes a Administrador está diseñada para el personal actual de Leander ISD comprometidos con el desarrollo de sus habilidades de liderazgo en la preparación de convertirse en un Subdirector.
Recordatorio electoral
A medida que se acerca la temporada electoral, es un buen momento para recordar a todos que los empleados del distrito escolar tienen prohibido el uso de los recursos de la escuela para abogar a favor o en contra de un candidato, partido o medida en particular. Los recursos escolares incluyen nuestros sistemas de correo/correo electrónico del distrito, así como los sitios web de la escuela/aula/maestro y las cuentas de redes sociales. Los empleados son libres de apoyar a cualquier candidato o asunto político, pero deben asegurarse de que el apoyo es a título individual y en su tiempo personal.
Para más información, consulte la página Recordatorios electorales para el personal.