Bonds, birdies and bronze (and silver and gold) medals, oh my! This month, #1LISD students have competed in multiple UIL State competitions, Leander ISD voters passed the 2023 bond propositions and graduation preparations are underway. Here's a rundown of what's inside this issue of The Compass.
Learning in Action: River Ridge Elementary
Join #1LISD Trustee Trish Bode as she visits River Ridge Elementary to witness learning in action.
Think big, dream big, believe big and the results will be big!
📸 A Look Around #1LISD – Donuts with Grown-ups
Bagdad Elementary celebrated fine arts students' hard work by inviting parents to a "Donuts with Grownups" picnic and performance event! The event starred the school's Ballet Folklorico and Filipino Folk Dance groups, who put on stunning performances for Bagdad parents and students.
🗓 Upcoming Events
Celebrating Asian-American Pacific Islander Heritage Month
Diversity is not just about skin color, it is also about nuance, culture, and history. During Asian-American Pacific Islander Month, teacher Mima Nazarene shares her experience of opportunity and enhancing cultural competency.
Viper Girls Win Golf Gold at State
The Vandegrift Girls Golf Team claimed the top spot in the UIL State 6A Golf Championship, separating themselves from the pack by finishing the two-day event 6 shots ahead of their closest competitor.
Leading the Vipers with a two-day score of 4 under par, Sydney Givens snagged the silver medal in the individual ranks. Givens finished in a three-way tie for first at the end of 18 holes, and in a playoff, she parred the first round and eagled the second round to end up in 2nd place.
A huge congratulations to Givens, Danica Lundgren, Breanna Hoese, Mimi Burton and Eden McSpadden for their incredible accomplishment!
And good luck to Vandegrift's Jaxon Bandelier and Cedar Park High School's Jonathan Kim who qualified for the UIL State Boys Golf Championship May 22–23.
Voters Pass May 2023 Bond Referendum
Voters approved all three bond election Propositions A, B and C Saturday night, according to unofficial May 2023 election results.
"I want to thank everyone who took the time to cast a ballot in this election," Superintendent Bruce Gearing said. " From the very beginning, we asked our community to show us their will for Leander ISD. Saturday's results affirmed our commitment to safe and innovative learning environments with a strong foundation in reciprocal communication.
"I'm excited to work alongside our community and staff," he added, "to create spaces that honor the work and effort of our students."
LISD Athletes Pick Up 3 Medals at UIL State Track & Field Meet
Congratulations to Kevin Sánchez of Vandegrift High School and Amani Graham of Cedar Park High School for their podium finishes at the UIL 5A and 6A Track and Field State Meet May 12-13 at the Mike A. Myers Stadium in Austin.
Sánchez, a senior, finished in 2nd place in the 6A Boys 3200-meter run and in 3rd place in the 6A Boys 1600-meter run. Graham, also a senior, finished in 3rd place in the 5A Girls 300-meter hurdles.
Graduation Fast-Approaching for Class of 2023
Leander ISD will salute the graduating Class of 2023 over a series of ceremonies this month. The schedule and school assignments are below. Specific details regarding the ceremonies will be shared on the district's Graduation page closer to the event.
Completed & Upcoming Graduation Ceremonies
Tuesday, May 16, 2023
SELF 18+ Project SEARCH at Ascension Seton NW Hospital – Read more about the 2023 Project SEARCH graduation ceremony
Wednesday, May 17, 2023
New Hope High School: 6 p.m. at Vista Ridge HS
Friday, May 19, 2023
SELF 18+ Transition Services: 7 p.m. at Vista Ridge HS
Friday, May 26, 2023
Rouse High School: 8-10 a.m.
Vista Ridge High School: 12-2 p.m.
Glenn High School: 4–6 p.m.
Cedar Park High School: 8-10 p.m.
Saturday, May 27, 2023
Vandegrift High School: 8-10 a.m.
Leander High School: 12-2 p.m.
Senior Walks 2023 Dates and Times Announced
Senior Walks will take place May 24–25 across Leander ISD's elementary campuses. These walks are an opportunity for graduating LISD seniors to return to their elementary school and celebrate how far they've come, while inspiring and encouraging current elementary students.
Lone Star JROTC #1 in State
The Vista Ridge Lone Star Navy Junior Reserve Officers Training Corps (NJROTC) was named the number one NJROTC in Navy Area 10 for the 2022-23 school year, a tremendous honor for the program.
The Leander ISD Lone Star Company had a year of many firsts: The unit won a national championship title (Navy JLAB Champions), competed in Brain Brawl, and qualified for the Area 10 State Drill Championship, the CyberPatriot National Finals and Navy National. It was also the the first time that a cadet won the Joseph C. Gilliam Award and that 100% of graduating seniors who were seeking a ROTC scholarship received one.
Summer Info Available
Information about summer school, summer athletic and academic camps, and summer learning opportunities are now available.
LISD has also posted the summer schedule for the district campuses and offices from June 5 through July 28. The district will be closed Monday, May 29, and then all locations will have normal hours May 30–June 2.
Lead Your Own Adventures with Thinkery Summer Camps
We are excited to announce that The Thinkery in Austin is partnering with Leander ISD to offer AMAZING week-long STEM camps this summer at Camacho Elementary in Leander for LISD students 1st through 5th grade. The first-week session starts on June 5.
Rouse Journalism Student to Participate in PBS NewsHour Student Reporting Labs Summer Academy
Rouse High School Junior Anastasiia Grygorieva is one of 28 students selected from a nationwide pool of applicants to join PBS NewsHour Student Reporting Labs (SRL) for its ninth annual summer academy this June.
"Anastasiia is innovative, collaborative, and a vital part of Raider Rumbler Media; she's been developing her distinctive filmmaking style over the last three years in Rouse's AV program," CTE AV Graphic Design Teacher Trina Moore said. "It's exciting to see her career path open up on the national level — I am very proud of her!"
Rouse Student Places Fourth at UIL State Theatrical Design Competition
Students from Vandegrift High School, Rouse High School, Cedar Park High School and Vista Ridge High School competed at the UIL State Theatrical Design Competition May 2-3, with Rouse's Sahithi Myana placing fourth in the Division II Marketing category.
Over the two days of the competition, the students both displayed their project portfolios and presented for judges who evaluated their work. This year's theatrical design theme was Frankenstein.
Help Our Schools By Verifying Your Student's for 2023–24 School Year
It's that time of year when families need to complete enrollment verification for returning students – specifically, students who attended a Leander ISD campus in the 2022–23 school year and plan to return for the 2023–24 school year. By verifying your student's enrollment for the upcoming year, this helps our team hire enough high-quality staff.
Looking to 2023–24
Feedback & Applications
Leander ISD believes in ongoing conversations and feedback from all of our community members relating to a variety of topics throughout the year. Several programs and initiatives also have specific windows of time where they accept applications. The Feedback & Applications page was created to provide a single location to see all of these timely topics.
Long-Range Planning Committee Expanded Membership, Application Deadline Friday
Leander ISD is currently accepting applications to serve on the Long-Range Planning Committee (LRPC) only. The application is open to secondary students, parents and community members who are interested in partnering with the district in an advisory role to carry out the mission of the LRPC. You can view the LRPC Charter, mission and additional information on the LRPC webpage.
The deadline to apply is 5 p.m. Friday, May 19. Please note that submitting an application does not guarantee selection for service. However, if you are not selected to serve on the committee, outreach opportunities will continue to be available for community members to provide input, share ideas and participate in shared learning through community workshops and forums.
New mLISD Devices to be Phased In; Security Deposit Amounts Reduced for 2023–24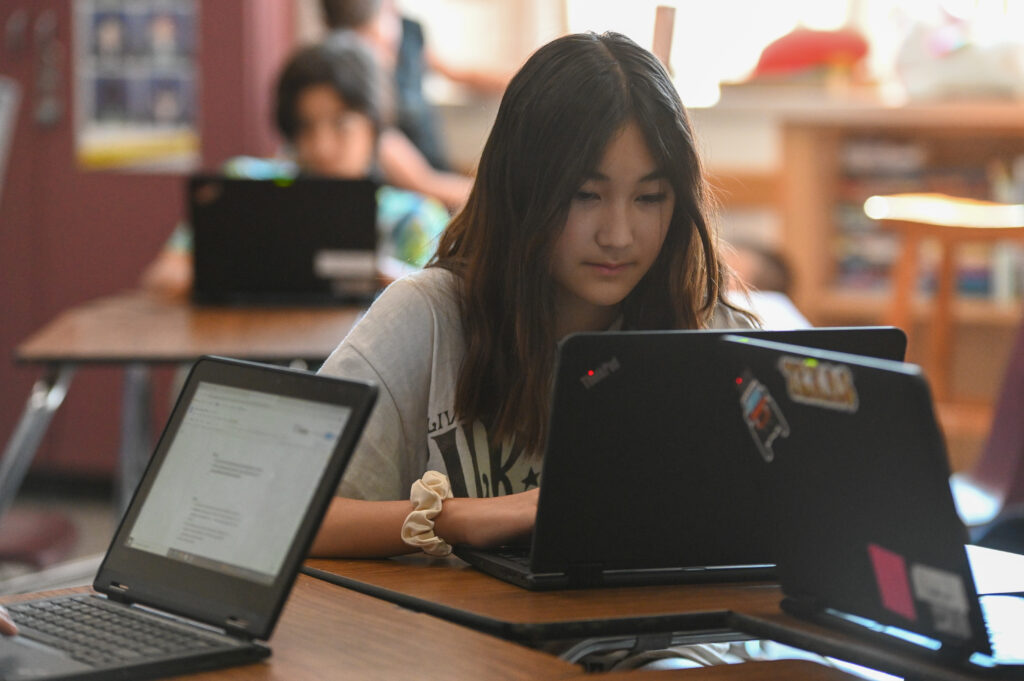 During the 2023–24 school year, Leander ISD will make exciting changes to the mLISD program. The district has chosen the Lenovo 13w Yoga Windows Laptop as the new standard device for high school students, starting with the 2023–24 9th-graders. LISD has also chosen the Lenovo 500e Convertible Chromebook for middle school students, starting with the 2023–24 6th-graders. These new devices will be phased into other grade levels over the next three years
LISD will reduce the amount of the non-refundable security deposit for those who choose to participate. LISD will also be waiving the security deposit for families who qualify for free and reduced meals. These changes will go into effect April 1 of this year for the 2023–24 school year.
Appreciating Our Staff
School Nurse Appreciation Week
Leander ISD celebrated School Nurse Appreciation Week May 8-12, highlighting the 48 nurses and five certified health aides who serve in the district.
During this school year in LISD, these nurses have handled 102,175 office visits, 44,834 medication administrations, 6,937 specialized care visits and 59,424 state mandated health screenings.
"Our Leander ISD school nurses pride themselves on ethical and evidence-based practice. They are leaders who bridge the gap between health care and education," District Nurse Cristin Wicketts said. "They provide care coordination, advocate for quality whole-child centered care, and collaborate with campus staff for campus and classroom systems that allow students and our #1LISD community to develop to their full potential today and every day. Join me in recognizing our Leander ISD nurses!"
SLP Appreciation Day: May 18
National Speech Language Pathologist Day is Thursday, May 18! Be sure to thank your school's SLP and stay tuned for some highlighted #1LISD staff members!
Board Meeting Updates
During its May 11 meeting, the Leander ISD Board of Trustees:
Reviewed the Employee Compensation Package
Received Property Value Estimates; Recapture Projections for 2023
Heard a District Recommendation of Scenario 2 for Middle School & High School Attendance Rezoning for 2024–25
Reviewed a New Initiative Aimed at Boosting Math Performance
Moved Forward the 2023 Building Program Following Successful Bond
Looked at a Comparison Between Campus-Based Program Offerings and School of Choice Options
Received the 2022–23 Report from SHAC
Approved Southwest Foodservice Excellence (SFE) as LISD's Food Service Company for Next Year
Welcomed New Principal at Wiley Middle School
The next regularly scheduled Board Meeting will be Thursday, May 25, at the LEO Center. The meetings are also available through live-stream on our Board of Trustees webpage. Meeting agenda packets are available online within 72 hours of the meeting.
Communication
Our schools and teachers use Remind to send text messages and emails to our parents. Make sure you log into Remind to set up your notification preferences, see archived messages, and send messages directly to your teachers and school staff. Download the mobile app (Google Play, Apple) for the best user experience.
Check out our News website and follow us on social: Facebook, Twitter, Instagram
---
Leander Educational Excellence Foundation (LEEF)
CPRMC Partnership with LISD Health Science
LEEF has the best Annual Partners! Have you heard of Cedar Park Regional Medical Center's (CPRMC) partnership with Leander High and Cedar Park High? Leander ISD Health Science students participate in an 8-week rotation observing CPRMC staff and real-world interactions with patients, procedures and other treatments in areas including: lab, pharmacy, radiology, medical-surgical, labor and delivery, NICU, and ICU.
"I'd like to thank CPRMC Education Director Alicia Rosiu, MSN, RN, for helping make this experience for LISD practicum students come true," said Robin Spinelli, MS RN, Health Science and Kinesiology Teacher at CPHS.
LEEF Hires New Executive Director to Lead Foundation
The Leander Educational Excellence Foundation (LEEF), the educational foundation supporting all Leander ISD students and staff, announced its new Executive Director Coleen Brighton. Brighton joined LEEF's Board of Directors in 2015 and most recently held the Director of Operations and Development position.
"The LEEF Board is excited for Coleen Brighton to serve as our next Executive Director," LEEF Board President Crystal Smith said. "As a long-time employee and supporter of LEEF, she demonstrates dedication to our mission and has a passion for supporting Leander ISD. We look forward to her leadership as we make this transition and continue to reach for our goal of putting $1 Million Back into the Classroom."
Save the Date: State of the District
Leander Educational Excellence Foundation (LEEF) in partnership with the Cedar Park, Leander and West Austin chambers of commerce are hosting the annual 2023 State of the District luncheon featuring Leander ISD Superintendent Bruce Gearing, Ed.D. The event will be held at 11:30 a.m. Wednesday, June 14, at Vista Ridge High School.
Purchase your tickets today through your chamber!
Interested in sponsoring the event? Sponsorship opportunities can be found on LEEF's website.
---
Our Voice (Staff)
Superintendent Hosts Staff Listening Sessions
In an effort to gather feedback from staff, Superintendent Bruce Gearing is hosting a series of listening sessions. These opportunities will take place through virtual Zoom meetings for teachers and campus staff as well as non-instructional employees.
Three meetings have already taken place earlier this week, and there is one more session scheduled for Thursday at 5 p.m.
Come share what's happening at the campus and department levels as Dr. Gearing looks to capture ideas and suggestions that can help move the district forward and allow staff to follow up on key issues.
New Edition of Benefits Buzz
Check out the latest edition of Benefits Buzz for reminders and tips.
A few reminders:
District Installs Press-Button Alert System
Thanks to a grant from the state of Texas, Leander ISD has started to install the technology and equipment for a crisis alert system. This technology will provide clear and critical information through the press of a button to all impacted personnel, ensuring everyone is ready to respond to any situation. Students and staff may notice new devices in their classrooms. With testing and training happening now, the system should be ready and available for use starting next school year.
---
Boletín THE COMPASS
Bonos, pajaritos y medallas de bronce (y plata y oro), ¡oh cielos! Este mes, los estudiantes de # 1LISD han competido en varias competencias estatales de UIL, los votantes de Leander ISD aprobaron las propuestas de bonos 2023 y los preparativos para la graduación están en marcha. He aquí un resumen de lo que contiene este número de The Compass.
Aprendizaje en acción: Escuela Primaria River Ridge
Únase #1LISD Trish Bode , miembro deGraduation Info la Junta Directiva en su visita a la Escuela Primaria River Ridge para presenciar el aprendizaje en acción.
Piensa a lo grande, sueña a lo grande, cree a lo grande ¡y los resultados serán grandes!
📸 Una mirada alrededor de #1LISD – Donas con adultos
La escuela primaria Bagdad celebró el arduo trabajo de los estudiantes de bellas artes invitando a los padres a un picnic y actuación "Donas con adultos". El evento estuvo protagonizado por los grupos de Ballet Folklórico y Danza Folklórica Filipina, que ofrecieron impresionantes actuaciones a los padres y estudiantes de Bagdad.
🗓 Próximos eventos
Celebración del Mes de la Herencia Asiática y de las Islas del Pacífico
La diversidad no es sólo el color de la piel, sino también los matices, la cultura y la historia. En el Mes de los Asiáticos-Americanos y de las Islas del Pacífico, la profesora Mima Nazarene comparte su experiencia sobre las oportunidades y la mejora de la competencia cultural
Las chicas Viper ganan el oro en la competencia estatal de golf
El equipo de golf de las chicas de Vandegrift demandó el primer lugar en el campeonato del golf del estado 6A de UIL, separándose del paquete terminando el acontecimiento de dos días 6 lanzamientos delante de su competidor más cercano.
Sydney Givens, líder de las Vipers con un resultado en los dos días de 4 bajo par, se colgó la medalla de plata en la clasificación individual. Givens terminó en un triple empate por el primer puesto al final de los 18 hoyos, y en un desempate, hizo par en la primera ronda y emparejó en la segunda para terminar en segundo lugar.
Enhorabuena a Givens, Danica Lundgren, Breanna Hoese, Mimi Burton y Eden McSpadden por sus increíbles logros.
Y buena suerte a Jaxon Bandelier de Vandegrift y Jonathan Kim de Cedar Park HSl que se clasificaron para el UIL State Boys Golf Championship 22-23 de mayo.
Los votantes aprueban el referéndum sobre bonos de mayo de 2023
Los votantes aprobaron las tres Propuestas A, B y C de las elecciones de bonos el sábado por la noche, según los resultados no oficiales de las elecciones de mayo de 2023.
"Quiero dar las gracias a todos los que se tomaron el tiempo para votar en estas elecciones", dijo el Superintendente Bruce Gearing. "Desde el principio, pedimos a nuestra comunidad que nos mostrara su voluntad para Leander ISD. Los resultados del sábado afirmaron nuestro compromiso con entornos de aprendizaje seguros e innovadores con una base sólida en la comunicación recíproca.
"Me entusiasma trabajar junto a nuestra comunidad y nuestro personal", añadió, "para crear espacios que honren el trabajo y el esfuerzo de nuestros estudiantes".
Deportistas de LISD obtienen tres medallas en la competencia estatal UIL de Campo y Pista
Felicitaciones a Kevin Sánchez de Vandegrift HS y Amani Graham de Cedar Park HS por sus podios en el UIL 5A y 6A Track and Field State Meet Mayo 12-13 en el Mike A. Myers Stadium en Austin.
Sánchez, de último año, terminó en segundo lugar en la carrera de 3200 metros de los chicos de la 6A y en tercer lugar en la carrera de 1600 metros de los chicos de la 6A. Graham, también de último año, terminó en 3er lugar en el 5A Girls 300 metros con vallas.
Se acerca la graduación para la Clase 2023
Leander ISD hará homenaje a la Clase de graduación 2023 en una serie de ceremonias este mes. El horario y las asignaciones de las escuelas están abajo. Detalles específicos sobre las ceremonias se compartirán en la página de Graduación del distrito más cerca del evento.
Martes, 16 de mayo de 2023
SELF 18+ Project SEARCH en el Hospital Ascension Seton NW – Leer más información sobre la ceremonia de graduación del Proyecto SEARCH  2023
Miércoles, 17 de mayo de 2023
New Hope High School: 6 p.m. en Vista Ridge HS
Viernes, 19 de mayo de 2023
SELF 18+ Servicios de Transición: 7 p.m. en Vista Ridge HS
Viernes, 26 de mayo de 2023
Rouse High School: 8-10 a.m.
Vista Ridge High School: 12-2 p.m.
Glenn High School: 4–6 p.m.
Cedar Park High School: 8-10 p.m.
Sábado, 27 de mayo de 2023
Vandegrift High School: 8-10 a.m.
Leander High School: 12-2 p.m.
Se anuncian las fechas y horarios de las Senior Walks 2023
Las caminatas de los estudiantes de último año que se graduarán se llevarán a cabo el 24 y 25 de mayo en las escuelas primarias de Leander ISD. Estas caminatas son una oportunidad para que los estudiantes de último año que se gradúan de LISD regresen a su escuela primaria y celebren lo lejos que han llegado, mientras inspiran y alientan a los estudiantes de primaria actuales.
Lone Star JROTC #1 en el Estado
El Vista Ridge Lone Star Navy Junior Reserve Officers Training Corps (NJROTC) fue nombrado el NJROTC número uno en el Área 10 de la Marina para el año escolar 2022-23, un tremendo honor para el programa.
La Compañía Lone Star de Leander ISD tuvo un año de muchas primicias: La unidad ganó un título de campeonato nacional (Navy JLAB Champions), compitió en Brain Brawl, y se clasificó para el Campeonato Estatal de Ejercicios del Área 10, las Finales Nacionales CyberPatriot y el Nacional de la Marina. También fue la primera vez que un cadete ganó el Premio Joseph C. Gilliam y que el 100% de los estudiantes de último año que solicitaban una beca del ROTC la recibieron.
Información de verano disponible
Ya está disponible la información sobre la escuela de verano, los campamentos deportivos y académicos de verano y las oportunidades de aprendizaje en verano.
LISD también ha publicado el horario de verano para las escuelas del distrito y las oficinas del 5 de junio al 28 de julio. El distrito estará cerrado el lunes, 29 de mayo, y luego todos los lugares tendrán un horario normal del 30 de mayo al 2 de junio.
Vive tus propias aventuras con los campamentos de verano Thinkery
Estamos muy contentos de anunciar que The Thinkery en Austin se está asociando con Leander ISD para ofrecer increíbles campamentos STEM de una semana este verano en la Primaria Camacho en Leander para estudiantes de LISD de 1° a 5° grado. La primera semana comienza el 5 de junio.
Un estudiante de Periodismo de Rouse participará en la Academia de Verano de PBS NewsHour Student Reporting Labs
Anastasiia Grygorieva, estudiante de la Preparatoria Rouse, es una de los 28 estudiantes seleccionados entre un grupo de solicitantes de todo el país para unirse a PBS NewsHour Student Reporting Labs (SRL) en su novena academia anual de verano el próximo mes de junio.
"Anastasiia es innovadora, colaboradora, y una parte vital de Raider Rumbler Medios de Comunicación, que ha estado desarrollando su estilo distintivo de filmación en los últimos tres años en el programa de Rouse AV", dijo la profesora de CTE AV Diseño Gráfico, Trina Moore. "Es emocionante ver cómo se abre su camino profesional a nivel nacional, ¡estoy muy orgullosa de ella!".
Un estudiante de Rouse queda cuarto en la competencia Estatal de Diseño Teatral de la UIL
Estudiantes de las Escuelas Preparatorias Vandegrift, Rouse, Cedar Park y Vista Ridge compitieron en la Competencia Estatal de Diseño Teatral de la UIL los días 2 y 3 de mayo, y Sahithi Myana de Rouse obtuvo el cuarto lugar en la categoría de Marketing de la División II.
Durante los dos días que duró el concurso, los alumnos expusieron sus proyectos y se presentaron ante los jueces, que evaluaron su trabajo. El tema del diseño teatral de este año era Frankenstein.
Ayude a nuestras escuelas verificando a su estudiante para el año escolar 2023-24
Es ese momento del año cuando las familias necesitan completar la verificación de inscripción para los estudiantes que regresan – específicamente, los estudiantes que asistieron a un campus de Leander ISD en el año escolar 2022-23 y planean regresar para el año escolar 2023-24. Al verificar la inscripción de su estudiante para el próximo año, esto ayuda a nuestro equipo a contratar suficiente personal de alta calidad.
De cara al 2023–24
Comentarios y solicitudes
Leander ISD cree en las conversaciones continuas y en la retroalimentación de todos los miembros de nuestra comunidad en relación con una variedad de temas durante todo el año. Varios programas e iniciativas también tienen ventanas específicas de tiempo donde aceptan solicitudes. La página de Comentarios y Solicitudes fue creada para proporcionar un solo lugar para ver todos estos temas oportunos.
Ampliación del número de miembros del Comité de Planificación a Largo Plazo, plazo de solicitud hasta el viernes
Leander ISD está aceptando solicitudes para servir en el Comité de Planificación a Largo Plazo (LRPC) solamente. La solicitud está abierta a los estudiantes de secundaria, padres y miembros de la comunidad que estén interesados en asociarse con el distrito en un papel de asesoramiento para llevar a cabo la misión de la LRPC. Puede consultar los estatutos del LRPC, su misión e información adicional en la página web del LRPC.
La fecha límite para presentar la solicitud es el viernes 19 de mayo a las 5:00 p.m.Tenga en cuenta que la presentación de una solicitud no garantiza la selección para el servicio. Sin embargo, si no es seleccionado para formar parte del comité, los miembros de la comunidad seguirán disponiendo de oportunidades de divulgación para hacer aportaciones, compartir ideas y participar en el aprendizaje compartido a través de talleres y foros comunitarios.
Los nuevos dispositivos de mLISD se introducirán progresivamente; los importes de los depósitos de seguridad se reducirán para 2023-24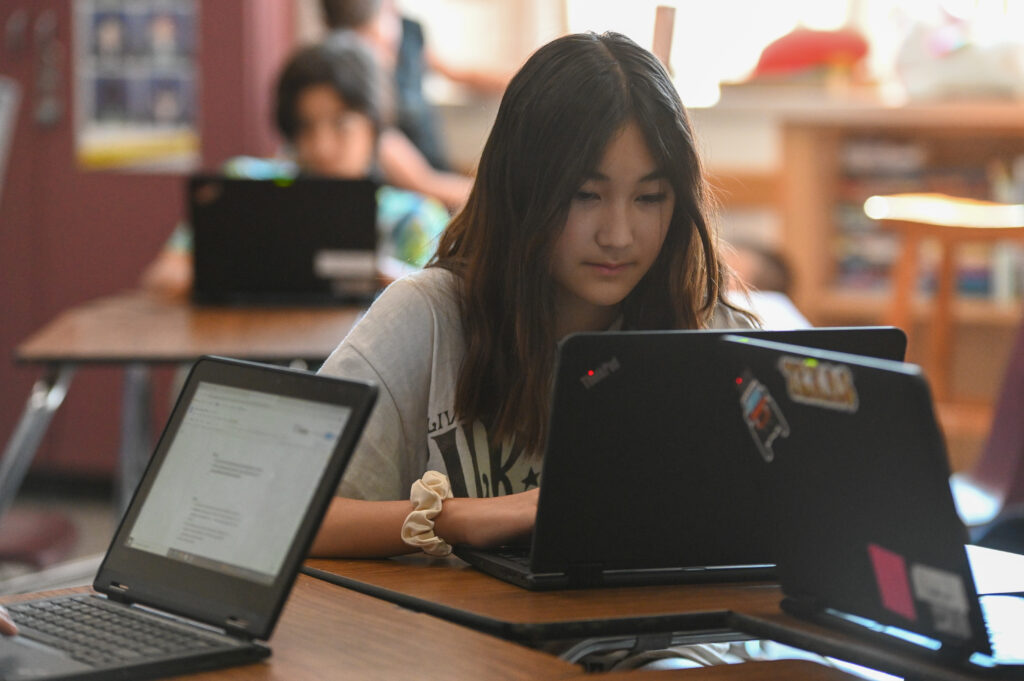 Durante el año escolar 2023-24, Leander ISD hará cambios emocionantes en el programa mLISD. El distrito ha elegido el Lenovo 13w Yoga Windows Laptop como el nuevo dispositivo estándar para los estudiantes de 9 º grado de preparatoria, a partir del año escolar 2023-24. LISD también ha elegido el Lenovo 500e Convertible Chromebook para los estudiantes de 6 º grado secundaria, a partir del año escolar 2023-24. Estos nuevos dispositivos se introducirán gradualmente en otros niveles de grado en los próximos tres años.
LISD reducirá la cantidad del depósito de seguridad no reembolsable para aquellos que decidan participar. LISD también renunciará al depósito de seguridad para las familias que califican para comidas gratuitas y a precio rebajado. Estos cambios entrarán en vigor el 1 de abril de este año para el año escolar 2023-24.
Apreciar a nuestro personal
Semana de agradecimiento a las enfermeras escolares
Leander ISD celebró la Semana de agradecimiento a las enfermeras escolares del 8 al 12 de mayo, destacando las 48 enfermeras y cinco auxiliares de salud certificados que sirven en el distrito.
Durante este año escolar en LISD, estas enfermeras han atendido 102,175 consultas, 44,834 administraciones de medicamentos, 6,937 visitas de atención especializada y 59,424 revisiones de salud obligatorias por ley.
"Nuestras enfermeras escolares de Leander ISD se enorgullecen de la práctica ética y basada en la evidencia. Son líderes que tienden un puente entre el cuidado de la salud y la educación", dijo la enfermera del distrito Cristin Wicketts. "Ellas proveen coordinación de cuidado, abogan por el cuidado de calidad centrado en el niño, y colaboran con el personal de la escuela para los sistemas de la escuela y el salón de clases que permiten a los estudiantes y a nuestra comunidad #1LISD desarrollar su potencial completo hoy y todos los días. Únanse a mí para reconocer a nuestras enfermeras de Leander ISD".
Día de agradecimiento al Patólogo del habla y del lenguaje: 18 de mayo
El Día Nacional del Patólogo del Habla y Lenguaje es el jueves 18 de mayo. ¡Asegúrese de agradecer a su SLP de la escuela y estén atentos a algunos destacados # 1LISD miembros del personal!
Actualizaciones de las reuniones de la Junta Directiva
Durante su reunión del 11 de mayo, La Junta Directiva de Leander ISD:
Revisó el paquete retributivo de los empleados
Estimaciones del valor de la propiedad recibida; proyecciones de recaudación para 2023
Escuchó una Recomendación del Distrito del Escenario 2 para la Rezonificación de la Asistencia a la Escuela Secundaria y Preparatoria para 2024-25
Revisó una nueva iniciativa destinada a mejorar el rendimiento en matemáticas
Avanza el programa de construcción para 2023 tras el éxito del bono
Comparación entre la oferta de programas en las escuelas y las opciones de elección de escuela
Recibió el Informe 2022-23 de la SHAC
Aprobó el Southwest Foodservice Excellence (SFE) como empresa de servicios de alimentación del LISD para el próximo año
Bienvenida al nuevo director de la Escuela Secundaria Wiley
La próxima reunión ordinaria de la Junta Directiva tendrá lugar el jueves 25 de mayo en el Centro LEO. Las reuniones también podrán seguirse en directo a través de la página web del Consejo de Administración. La agenda del día de las reuniones estará disponible en línea en las 72 horas siguientes a la reunión.
Comunicación
Nuestras escuelas y maestros utilizan Remind para enviar mensajes de texto y correos electrónicos a nuestros padres. Asegúrese de iniciar sesión en Remind para configurar sus preferencias de notificación, ver los mensajes archivados y enviar mensajes directamente a sus maestros y al personal de la escuela. Descargue la aplicación móvil (Google Play, Apple) para obtener la mejor experiencia de usuario.
Visite nuestro sitio web de noticias y síganos en las redes sociales: Facebook, Twitter, Instagram
---
Fundación para la Excelencia Educativa de Leander (LEEF)
CPRMC se asocia con LISD Ciencias de la Salud
¡LEEF tiene los mejores Socios Anuales! ¿Ha oído hablar de la asociación de Cedar Park Regional Medical Center (CPRMC) con Leander High y Cedar Park High? Los estudiantes de Ciencias de la Salud de Leander ISD participan en una rotación de 8 semanas observando al personal de CPRMC y las interacciones del mundo real con los pacientes, procedimientos y otros tratamientos en áreas que incluyen: laboratorio, farmacia, radiología, médico-quirúrgico, trabajo de parto y parto, UCIN y UCI.
"Me gustaría dar las gracias a la Directora de Educación de CPRMC, Alicia Rosiu, MSN, RN, por ayudar a hacer realidad esta experiencia para los estudiantes de prácticas de LISD", dijo Robin Spinelli, MS RN, Profesora de Ciencias de la Salud y Kinesiología en CPHS.
LEEF contrata a un nuevo Director Ejecutivo para dirigir la Fundación
La Fundación de Excelencia Educativa de Leander (LEEF), la fundación educativa que apoya a todos los estudiantes y personal de Leander ISD, anunció a su nueva Directora Ejecutiva Coleen Brighton. Brighton se unió a la Junta Directiva de LEEF en 2015 y recientemente ocupó el cargo de Directora de Operaciones y Desarrollo.
"La Junta de LEEF está entusiasmada con Coleen Brighton para servir como nuestra próxima Directora Ejecutiva", dijo la Presidenta de la Junta de LEEF Crystal Smith. "Como un empleado con antigüedad y partidaria de LEEF, demuestra dedicación a nuestra misión y tiene una pasión por el apoyo a Leander ISD. Esperamos con interés su liderazgo a medida que hacemos esta transición y seguir para alcanzar nuestro objetivo de poner $ 1 Millón de vuelta en el aula."
Reserve la fecha: Estado del Distrito
La Fundación para la Excelencia Educativa de Leander (LEEF) en asociación con las cámaras de comercio de Cedar Park, Leander y West Austin están organizando el almuerzo anual del Estado del Distrito 2023 con el Superintendente de Leander ISD Bruce Gearing, Ed.D. El evento se llevará a cabo a las 11:30 a.m. El miércoles, 14 de junio en la Preparatoria Vista Ridge.
Adquiera sus entradas hoy mismo a través de su cámara.
¿Le interesa patrocinar el evento? Puede encontrar oportunidades de patrocinio en el sitio web de LEEF.
---
Nuestra voz (miembros del personal)
El superintendente organiza sesiones para escuchar al personal
En un esfuerzo por recopilar las opiniones del personal, el Superintendente Bruce Gearing está organizando una serie de sesiones para escuchar al personal. Estas oportunidades se llevarán a cabo a través de reuniones virtuales Zoom para los profesores y el personal de la escuela, así como los empleados no docentes.
Ya se han celebrado tres reuniones a principios de esta semana, y hay una sesión más programada para el jueves a las 5:00 p.m.
Venga a compartir lo que está ocurriendo en el plantel y en los departamentos mientras el Dr. Gearing intenta captar ideas y sugerencias que puedan ayudar a hacer avanzar el distrito y permitir al personal hacer un seguimiento de las cuestiones clave.
Nueva edición de Benefits Buzz
Consulte la última edición de Benefits Buzz para recordatorios y consejos.
Algunos recordatorios:
El distrito instala un sistema de alerta mediante pulsar botones
Gracias a una subvención del estado de Texas, Leander ISD ha comenzado a instalar la tecnología y el equipo para un sistema de alerta de crisis. Esta tecnología proporcionará información clara y crítica a través de la presión de un botón a todo el personal afectado, asegurando que todo el mundo está listo para responder a cualquier situación. Los estudiantes y el personal pueden notar nuevos dispositivos en sus aulas. Con las pruebas y la capacitación del curso, el sistema debería estar listo y disponible para su uso a partir del próximo año escolar.